*Counter-Sniper*
Teamwork, mobility, and communication have taken a downward dive in the world of paintball. What has replaced it is a loose group of individuals who go out and "snipe" people. These may be newbies or experianced players and their style of play actually does pose a threat to the avg. player.
First off, realize the level of competition: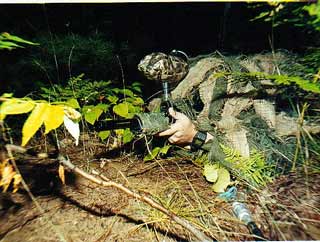 As you can see, a wrist watch, no gloves, poor ghillie suit, and a long, shiny barrel. This lack of attention to detail can be used to your benefit ONLY if the team uses attention to detail.
My suggested gear is as fallows for a 3-man "counter-sniper" team:
- Point: LAW rocket with some sort of high-noise generating marker.
- Slack: Matrix or similar quiet gun.
- Rear: 98/Flatline mounted with a 3x scope.
That is again, only suggested.
Anyway, first, ghillie suits are generally not matted with proper natural camouflage, if any at all. Look for tree branches on the ground. Also note a large "lump" or odd shadow that may indicate a "sniper".
9/10 the snipers will not carry a 2-way radio so they are isolated. That doesn't mean get sloppy, because 1/10 will have them, just keep your wits about you.
Most snipers will not take the hard, muddy, nasty road, rather, the easy road as many players use. Some good places to look for them are near fallen logs or isolated cover with good fields of view and firing lanes. Most will be there.
Movement-to-contact, if you spot something, use your loudest marker to do RECON BY FIRE. This may scare them into moving or returning fire. In that case, you suppress the enemy sniper and manuver in on him or use the LAW to teach a lesson, 25 balls smacking you across your body will teach a quick lesson.
Listen for a dragging noise and look for snail trails, where leaves or mud have been displaced and dragged. This is because most of them cannot crawl properly. Also looks for burlap or broken vedgetation that looks like it has been torn. Optics flashing is another giveaway.
Use teamwork, communication, and mobility and you are sure to defeat the "snipers".
------------------------------------------------------------------------------
*Recon-by-Fire*
Ever see the movie We Were Soldiers? Remember when the troops are given the order to open up for a few shots at anything that looks strange?
This is to cause the enemy to either move or return fire, 9/10 players will return fire.
Say that you spot a shadowy area. Take your loudest market and put a few rounds into that position. This doesn't mean spraying down the bush, but in areas that you think you see the enemy in.
Another way to find the enemy by fire is to cease fire and listen in to get an idea of where the enemy shots are coming from. Often times, I will need to control the fire of my teammates because the fire of the enemy is melded or over-powered by the sounds of their own markers returning fire.
Hopefully you will learn NOT to return fire and to use this tactic effectivly.