Hey, I have a few things I'm looking to get rid of. Looking for cash or trades, or a combination of both. Please, read the rules, and thanks for looking. Feel free to shoot me a PM if you are interested or have any questions.
I am Paypal Verified! Buy with confidence! 100% Feedback on Ebay! (55 Transactions!)
RULES
1.
Serious buyers only. No lowballs..(will be considered a free up)
2.
You Ship/Pay First. I will ship next day.
3.
I accpet Paypal, directly send money to me, or local pick-up (Southern, NJ)
4.
Prices are
negotiable
5.
No Flaming
6.
If you wish to pay with a check, I will not ship until the check is CLEARED!
6.
All prices are not final. Most are OBO. Just offer up.
7.
For trades, my items are in great condition, so if you are looking for a trade, please offer something that is in good condition as well.
8.
Post before you PM
It will go like this:
Item =
Price
+
Shipping
1.
First up, my 98 Custom Pro ACT w/ Reponse Trigger. This gun shoots nice, only shot about 2 cases of paint through it. Was purchased at Christmas Brand New. If you'd like additional pictures, feel free to ask. -
$140 Shipped
2.
16" Custom Products 1-piece. Custom 98 Threaded. .689 Bore Silver. -
$30 Shipped
3.
LNIB
Invert Reloader 2 -
SOLD
SOLD
4.
62ci 3000psi HPA Tank (High Pressure) - Some signs of use (scratches), but fill nipple is in great condition. Hydro expires 5-2013. -
$45
+
$10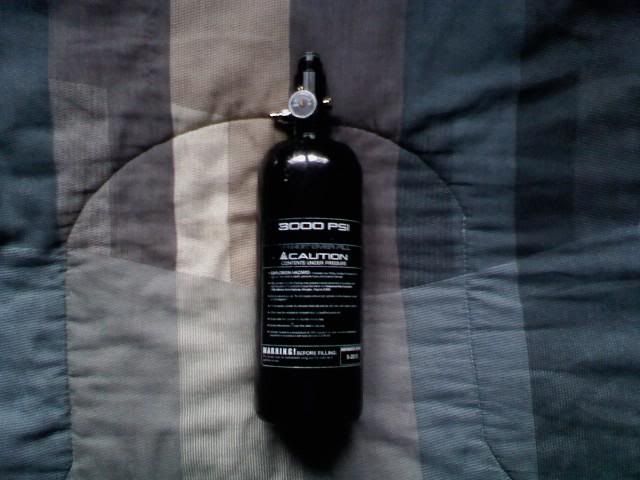 5.
NIB 72ci 3000psi Pure Energy.
SOLD
SOLD
6.
Xbox 360 Cooler Fan - Has 4 extra USB Port, HDTV Plugs, S-Video, VGA, Ethernet Port, and Dual Velocity Fans. Bought it for $45 at Gamestop. Didn't fit in the area where I use my Xbox, so I put it back in the box. Lost lid to top of box. The cooler was plugged in, but was never turned on.
$30 Shipped