Alright, I got some stuff I want to get rid off so I can get into paintball! Offer me something, we can work something out, I will take cash/cash and trade combo's.
Do you want your PSP to be able to run game off a memory stick? I can put custem firmware on your PSP! (PM me for details)
PRICES DROPPED!!
Trades I'm looking for:
-COMPRESSED AIR TANK(s) (aka hpa tank)
-Markers (DM's, PM's EGO's and other such e-markers)
-Pads (like the Proto Paintball Chest Protector or other armor)
-Gloves
-Pods
-Paintball gear (jersey, playing pants, headgear...)
-Practices paintballs or rubber paintballs
-Cash
-Paintball stuff
-TRADED TO NightyNite! eVGA 8800 GTX with 768MB THIS IS GONE
pic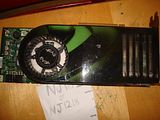 -Battlefield 1942 PC game $10 (I have more PC games, PM me for a list)
-Next is a Axle GeForce 7600 GS with 512 MB of video memory. Goes in the AGP slot and is used in like new condition. DVI and VGA and S-video ouput. $80
-Here is the BFG BFG DVI to VGA adapter, in case you don't have a DVI monitor. Good condition. $7
-FPS Creator X10 which is THE EASIEST way to create shooter games up to the quality of today games! No coding needed! Just drop in iteams from a huge library of material. You can even make multiplayer games! The graphics are really good because they are directX 10, so you will need a directX 10 graphics card and Windows Vista (get the 8800 GTX from me). Also it's recommended that you have 4GB of RAM which you can also get from me.:)
This
and
this
are some sweet video's of FPS creator X10 work$55
-Dark Basic Professional is another sweet game creator, but with this you can create all types of games! There's lighting, reflections, bump mapping, bone based animations, environment mapping, advanced terrain, and multiplayer gaming. You can even make split screen games! DarkBASIC Professional can be used with a directX 9 card and Windows XP (again I've got you covered with the 7600 GS). Also inclueded free is DarkMATTER which is a huge library of characters, textures, vehicles, guns, planes and more, which can be use with DarkBASIC Professional. also Riftspace and Star Wraith which are fun 3D space combat that was made with DarkBASIC Professional.
This
and
this
are sweet video of Dark Basic pro's work.$60
-4GB of RAM the RAM is brand new! 800mhz DD2 DIMM. Note: There is 2x 2gb of RAM $60
-4 game controllers for a computer, I'm done with gaming on to paintball. $12 each
-SATA PCI card, Plug in any SATA hard drives into this if you don't have any SATA plugs. Like new. $20
Let's see thoses offers!