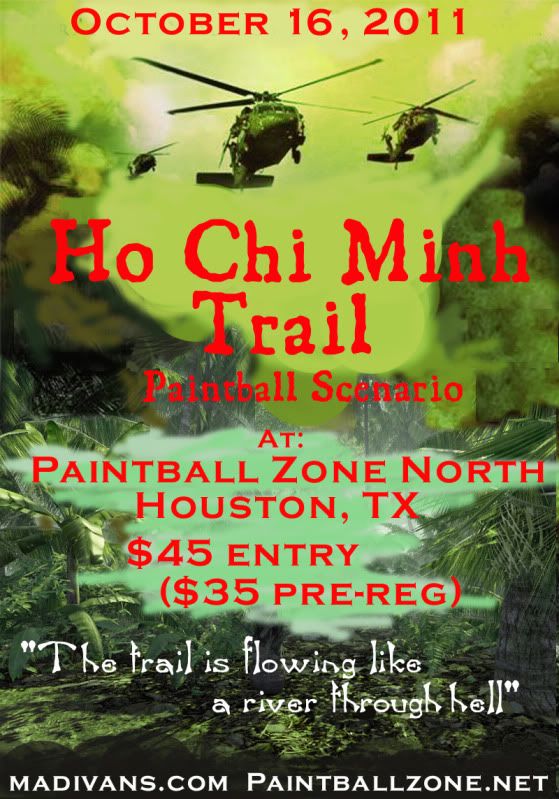 October 16th 2011 - Paintball Zone North field, Houston, TX
Ho Chi Min Trail
"The year is 1967 in central Vietnam. The NVA is sending supplies in vast amounts by way of a network of trials and roads to the guerilla forces in the south. American special forces operating on the border of Laos have been given a mission to stop this flow of supplies. Rumors of a building offensive are spreading throughout the villages of the regio...n. The Americans are looking for the proof. This little road in the jungle could turn the tide of the war in Vietnam."
07:00 hours - air, chroro and registration open
09:30 hours - safety meeting and announcements
10:00 hours - game on
12:00 hours - lunch brake
13:30 hours - game on
18:00 hours - game ends
18:30 hours - final score and announcements
Price is $45 at the gate
...or you can pre-reg for $35 before 10/11/11
All people who play this event will be given a player pack with a map, personal mission and game tag. Prizes drawing tickets are earned from the personal missions during the day.
The site is:
Paintball Zone North
8311 FM 1960 Bypass
Humble, Texas 77338
For more info:
madivanscenarios@yahoo.com
madivans.com
Paintballzone.net
Mad Ivanís Scenarios
Ft.Worth, TX
Be sure to opt in at:
Special Ops Paintball
Log In | Facebook
__________________
=======================
"Mad" Ivan Stober
Mad Ivan's Paintball Scenarios