Alright leaving for the army in 36 days. These guns have to be gone by atleast July 25.
Rules:
1. I do not ship first
2. Rule number one.
3. PAYPAL fees and SHIPPING are NOT included in price.
4. All of the above three rules
I am paypal verified, but will take money order as well. It must clear before package is shippped out.
125 Customs Half Block sniper
This gun tears faces up. It is my primary pump marker. Very consistant and shoots very well.
Specs:
- Rare 9 of 10 125customs half block body
- Cp shorty
- Dye UL with Stiffi Tip
- XSV rail and on/off
- Ego lever clamping feedneck
- CCM pump kit
- CCM 90* frame (slim)
[video]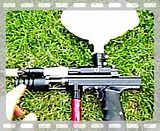 [/video]
Few old pics:
PRICE: 600 obo
Any questions or comments feel free to pm me.
Trades (in order of importance)
- CASH $$$$$$$$
- Rare angels or pl G7's